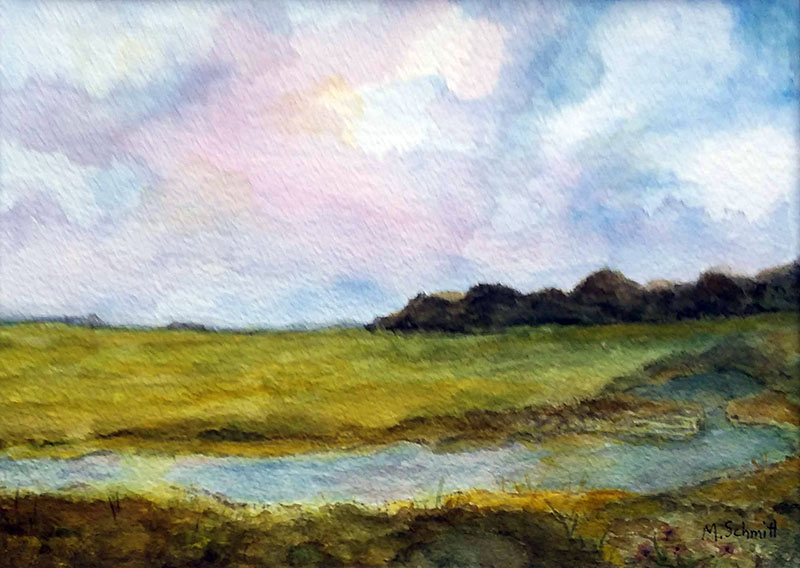 Jan Weigold Bryant and Her Class Artists: An Exhibtion
Jan Weigold Bryant is one of the dedicated instructors at the Studios of Cocoa Beach, where she teaches watercolor and acrylic painting. This October, Jan and artists in her classes and workshops will exhibit their works.
There will be an opening reception on Saturday, October 7, from 4 to 8 PM. This is a chance to meet Jan and the artists as they share and celebrate their art.. Wine and other fare will be served. There is also a drawing for art works by Jan and others  with proceeds benefiting this non-profit gallery.
Jan taught at two universities, but she prefers "Teaching individuals who aren't looking for a grade, but for the enjoyment of seeing the beauty in the world and transferring it to their chosen medium in their particular style. It's not important to "paint like Jan". Each artist has a unique outlook and my goal is to help them open up and allow their creativity to express what they are seeing.
The students in Jan's classes range from the beginner to advanced.  Jan's motivational encouragement helps them on their artistic journey with the added benefit of trying new techniques. Several have been with Jan over a length of time and the exhibition is a tribute to their artistic growth.
Along with teaching at the Studios of Cocoa Beach, Jan teaches at Central Brevard Art Association, Island Condominiums, Health First Aging Services. She offers private lessons at her home studio and loves to hold painting parties.
The exhibit runs from October 3 to 29.  The gallery at 165 Minutemen Causeway  in downtown Cocoa Beach is open Monday 9 am to 2 pm, Tuesday to Saturday 9 am to 7 pm and Sunday 1 to 6 pm.  For information, artist portfolios, and class schedule visit www.studiosofcocoabeach.org or follow them on Facebook or Instagram