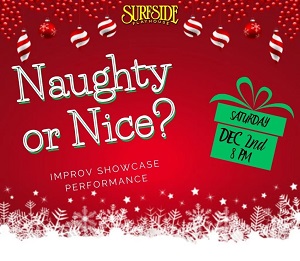 Improv Showcase: Naughty or Nice?
Surfside Players presents…
December 2, 2023 | 8:00pm
Join us for an unforgettable night of laughter and spontaneity at our improv showcase featuring the Fall 2023 class! Get ready to be entertained by a talented group of up-and-coming improvisers who are ready to take the stage by storm.
Improv is an art form that thrives on the unexpected, and our Fall 2023 class is no exception. Our talented performers will take suggestions from the audience, turning them into hilarious and unexpected scenes right before your eyes.