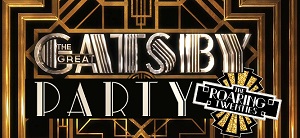 Great Gatsby Party: The Roaring Twenties
Space Coast Symphony Orchestra presents..
November 19, 2023  |  7:00pm  |   Satellite high School
Space Coast Symphony Jazz Orchestra
Frank Wosar, Jazz Director
Join us for a celebration of the music that enthralled the gangsters, flappers and Bright Young Things a hundred years ago – a cocktail of hot syncopation and crazy rhythm to chase the blues away.  The 1920s was the Jazz Age and it began with a pandemic. Once the Spanish Flu died down, the decade began to roar with a vengeance. The world had just emerged from the war to end all wars and America was now determined to dampen the spirits even further with Prohibition.  However, jazz came to the rescue.  Your Space Coast Symphony Jazz Orchestra under Frank Wosar recreate the exciting sounds of a period of wild and carefree exhilaration sandwiched between a ghastly bug and the Great Depression in an exciting program featuring the music of Duke Ellington, Louis Armstrong, Bessie Smith, Jelly Roll Morton and Bix Beiderbecke.  Music from the acclaimed band, Postmodern Jukebox will also be featured on this thrilling program.