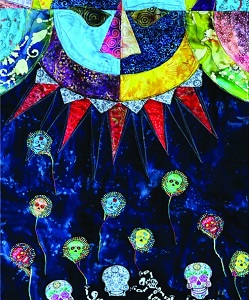 Fifth Avenue Art Gallery: The View From a Blind Eye Exhibition
Fifth Avenue Art Gallery presents…
During May, Fifth Avenue Art Gallery features The View From A Blind Eye: Esta Rubin.
The View from a Blind Eye' is a solo show by Esta Rubin. It demonstrates an artist's desire to adapt to low vision and the drive to continue to work. No longer safe to work with the chemicals used in printmaking Esta has entered the realm of fiber art, combing both fiber and printmaking. This work is the expression of my desire to keep on working.
The May pop-up exhibition is Spirit of Nature: Grace Cormier Solo Exhibit.
Fifth Avenue Art Gallery is at 1470 Highland Avenue in the Eau Gallie Arts District of Melbourne. For further information, call 321-259-8261 or visit fifthavenueartgallery.com.