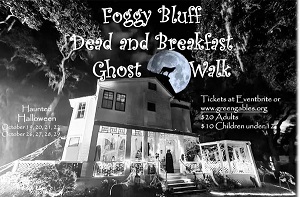 Foggy Bluff Dead and Breakfast at Green Gables
October 19-22 & October 26-29, 2023 | 7:00pm – 11:00pm each evening
Join Green Gables for a spooktacular night at the Foggy Bluff Dead and Breakfast! This in-person event will take place on Thursday, October 19th 2023 through Sunday October 22nd and Thursday October 26th through Sunday October 29th on the Grounds of Green Gables- 1501 South Harbor City Blvd, Melbourne, FL 32901. Tickets are sold by date. You choose what time to arrive on the date for which you purchased a ticket.
Our shows between 8 and 10 or 8 and 11 are filled with more chills and thrills than ever. Prepare to be scared!!!! On your journey to check in to the Foggy Bluff Dead and Breakfast, you will pass through the dimensional portal to encounter ghosts, witches and creatures of the night. Experience amazing special effects and creepy new props and surprises!
Our shows on Friday and Saturday from 5-7 are our "Not so scary" tours for families with younger children and the faint of heart. Still creepy and filled with surprises, but not as intense as our later shows. Children will be able to trick or treat as they travel the path of Foggy Bluff during this time slot only.