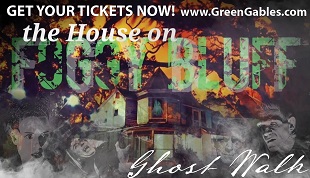 The House on Foggy Bluff Ghost Walk Tours
Are you brave enough to walk through a haunted forest , maze, cemetery and the amazing House on Foggy Bluff? This event must not be missed!
At Historic Green Gables
October 22-24,2021 and October 29-31, 2021  |  Tours from 8pm to midnight each night
October 21 (Special VIP night, very limited showings), 22, 23, 24 & 29, 30, 31 2021, Green Gables presents the amazing House on Foggy Bluff Ghost Walk. You and your friends and family will be amazed at the creatures and frights in the enchanted forest and maze. Then we dare you to walk through our 125 year old Victorian house, filled with spirits and other creatures of the night. Our haunt features a special high tech experience will amaze you, but you're not finished yet! Walk through our spooky cemetery (even bigger and better than last year), see our haunted mausoleum and encounter some more frightening surprises before you return to the real world (that is, if you survive!)
Numbers are limited so get your tickets early! Hours: 8pm – midnight ( Last tour begins at 11:30pm)!