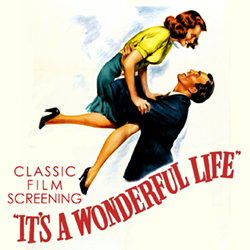 Film: It's a Wonderful Life
Historic Cocoa Village Playhouse presents…
One Showing Only – Friday, December 22nd at 6:30 p.m.
Ticket Price is $10 per person
Movie: It's a Wonderful Life (1946)
Directed by Frank Capra
Starring James Stewart, Donna Reed & Lionel Barrymore
Experience this holiday classic in the historic theatre setting. Imagine what it must have been like when "The Aladdin" theatre, Brevard's first silent movie house, became "the scenic place of the Indian River Section" as quoted from the Cocoa Tribune,1924. An angel is sent from Heaven to help a desperately frustrated businessman by showing him what life would have been like if he had never existed.