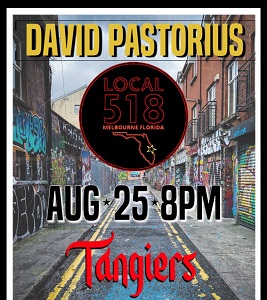 David Pastorius and Local 518 at The Tangiers
Experience the magic of David Pastorius and Local 518 as they take you on a thrilling musical journey like no other! David, the talented nephew of American jazz virtuoso bassist, Jaco Pastorius, brings his extraordinary skills to the forefront, showcasing his impeccable technique and unmatched passion for creating groundbreaking music. Fun Fact: Pastorius is currently on a nationwide tour with Pat Travers coming to the Tangiers on July 29, 2023!
With their unique blend of progressive pop and rock, David Pastorius and Local 518 will transport you to new dimensions, captivating your senses with their infectious melodies and mind-blowing instrumental solos. This highly anticipated performance promises an exhilarating night filled with electrifying energy, awe-inspiring musicianship, and an unforgettable atmosphere that will leave you breathless. Whether you're an avid fan of jazz, rock or simply appreciate exceptional talent, they will undoubtedly deliver a show that will exceed all expectations. Mark your calendars and secure your tickets now for an evening that guarantees to be a musical experience you truly won't want to miss!
Tickets on sale NOW starting at only $30!