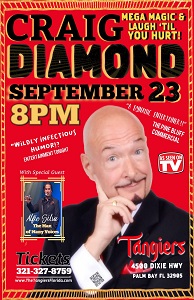 Craig Diamond: Master Magician and Comedian at The Tangiers
Craig Diamond is not only an award-winning magician but also an extremely funny comedian. His exceptional skills and hilarious approach to magic have earned him high acclaim in the entertainment industry and well-known cruise lines. Most notably, Diamond was honored with the prestigious Milbourne Christopher Lifetime Achievement Award, a recognition shared by legendary magicians such as David Copperfield, Siegfried and Roy and Lance Burton just to name a few. With his unique blend of wit, charm, and mind-boggling illusions, Diamond promises to deliver an unforgettable performance that will leave you in stiches and awe-inspired at the same time. Prepare to be amazed and entertained as he takes you on a spellbinding journey through his world of magic and comedy. Don't miss the chance to witness this extraordinary talent in action! Tickets on sale now!
*Opening his act will be our very own talented, Alfie Silva!