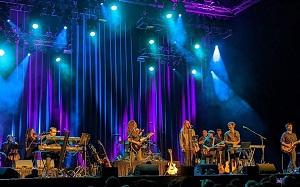 Classic Albums Live: The Police – Synchronicity
King Center for the Performing Arts presents…
The 2023 Season marks the 20th year of Classic Albums Live at the King Center!
Oct 21 – The Police Synchronicity
Classic Albums Live takes the most celebrated albums and brings them to our stage – note for note, cut for cut – performed by great musicians bringing the icons to life! We are thrilled to host another season of this series, and will be hosting Party on the Patio for each of these shows! Party starts 90 minutes prior to each show!
A brand new show for us! We love the challenge of this. The Police were masters of the 80s, so many bands were more style than substance and couldn't stand the test of time, but The Police created a body of work that demands excellence when performing it. Synchronicity is the crowning glory. A perfect album with lush sounds, countered with urgent ferocious playing.
The Police made a big sound for a trio. The Police were incredible musicians, their way of playing against each other instead of with each other has never before been captured.
Expect Greatness!