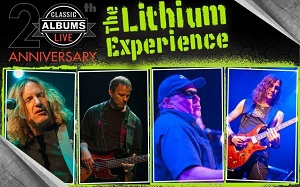 Classic Albums Live: The Lithium Experience
King Center for the Performing Arts presents…
It's time for The Lithium Experience, funny to think that music from the 90s is now nostalgic.
heavy grunge | killer alternative | all the big hitters on this show | stone temple pilots | pearl jam | nirvana 
soundgarden | janes addiction | and some surprises
When we first took on this genre we were amazed at how well crafted the songs were and how much effort it took to play them properly.
Shain has 13 guitar changes throughout the show and we run one song into the next. it's like a Classic Albums Live show in that we hit it note for note, but instead of albums, we take a few songs from featured artists and bang one into the next. It's thrilling. The Lithium Experience will bring a new generation to CAL and remind our loyal fanbase of just how much fun this time in music history was.