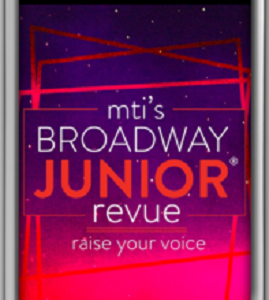 Broadway Junior Revue: Raise Your Voice (youth theatre)
June 10, 2023 | Shows at 1:00 P.M. and 3:30 P.M.
Raise Your Voice is a brand-new revue featuring songs from across MTI's Broadway Junior® collection. From Broadway Junior musicals based on classic titles like Guys and Dolls and Oliver! to beloved Disney shows like The Little Mermaid and Mary Poppins, Raise Your Voice offers a fun introduction to musical revues for young performers.