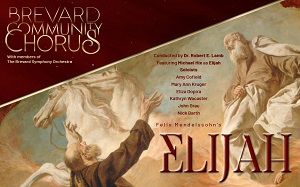 Brevard Community Chorus: Felix Mendelssohn's Elijah
The Brevard Community Chorus will present Felix Mendelssohn's (1809-1847) monumental oratorio Elijah on Saturday, May 6th, at 7:30pm at the King Center for the Performing Arts. The chorus will be accompanied by professional vocal soloists and members of the Brevard Symphony Orchestra. Tickets are $30 for general admission, $25 for seniors (over 65) and active military, and $5 for EFSC or Brevard County Schools students (with valid ID). Tickets are available at the King Center website or at the box office on the evening of the concert.
Mendelssohn composed his oratorio in 1846. He had been a student in Leipzig, Germany, where he discovered the passions of J. S. Bach. In 1829, while a student in Leipzig, Mendelssohn produced the first concert of J. S. Bach's St. Matthew Passion since Bach's death. Oratorios were invented during the Baroque period (1600-1750) and are identical to opera musically (solos, recitatives, choruses, etc.) but differ from operas in that they aren't performed with costumes or scenery.
The chorus and orchestra will be conducted by Dr. Robert E. Lamb, professor of music and director of choral activities at Eastern Florida State College, and conductor of the chorus since 1998.