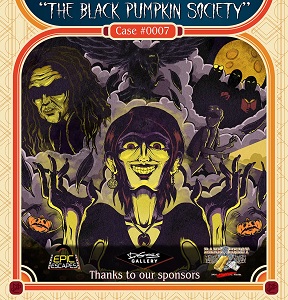 Black Pumpkin Society Interactive Adventures
Enter the world of Mystery Club in this strange immersive scavenger hunt where you will encounter live actors, solve mysteries, and scour the Eau Gallie Arts District for clues on how to stop a strange spooky calamity!
Duration: 3 Hours
Total Group Size: 30 per show. Prepare to be put into groups of 5-6.
At the start time of your experience, you will meet Mystery Club at the site of the disturbance in Derek Gores Gallery located at 1418 Highland Avenue in the Eau Gallie Arts District.
A Mystery Club Agent will brief you on the safety measures required for this unique adventure.
Once you've been briefed and the curtain is pulled back, the mission begins and you will be immersed in the world of Mystery Club, tasked with stopping a strange band of villains from completing their evil plans.
During this time you and your team will work both inside and outside the gallery throughout EGAD as you find clues, solve puzzles, and interact with the rich characters that make up the Black Pumpkin Society.
The clock will be ticking can you stop them in time?