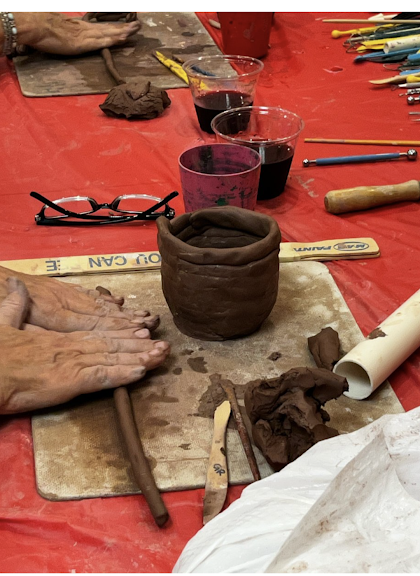 Beginning Pottery: Hand Built Techniques
The Studios of Cocoa Beach is hosting "Beginning Pottery: Handbuilding with Clay" with Glaucia Romano on Friday, September 16 from 5 to 8:30 pm. Learn the basics of  hand-building with clay by using slabs, coils, or inch-pot techniques, explore a variety of tools and molds, and how to create textures.
This class is suitable to anyone who is interested in learning or improving their hand-building skills. Work at your own pace and at your own level. There will be samples to inspire you , or bring your own ideas.
Depending on the size of your creation it will need a week to dry and them will be fired. Bisque firing is included in the price of your class. You will need to return to the Studios to pick it up when it is ready. If you add a glaze and a second firing there is an additional $20 fee . Arrangements will be made for you to do the glazing which takes about an hour. If you have questions, or to request supplies for a particular project, email glauciaromano@gmail.com or text her at 321-345-0670.
Glaucia Romano has an MA in Art Education and is a certified Art Educator in the state of Florida. She has taught art classes for over 15 years in the public and private sectors, mostly to kids, but also to adults. She has a wide knowledge of a variety of media and processes and can't wait to share them with you.
Fee for the class is $80 which includes all materials.  Register at the Studios website www.studiosofcocoabeach.org.  The class meets at the Studio workshop room behind the gallery at 165 Minutemen Causeway in downtown Cocoa Beach.