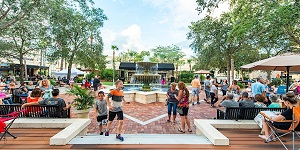 3rd Thursday at The Avenue
3rd Thursday is a fun night in Central Park at The Avenue Viera! Enjoy live music with Tru Phonic, complimentary snacks, and a free drink or ice cream. The event is free and suitable for all ages. We also welcome your pets! Learn more about our dog friendly shopping.
RSVP for us to plan your arrival. You must check-in with your RSVP email from Eventbrite to pick up your event ticket.* Click here to RSVP.
*All members of your party must be present at check in. One event ticket per person present at check in.
We are partnering with Brevard Schools Foundation for a school supply drive! Donate a bag of school supplies at the Brevard Schools Foundation table at July 20th's 3rd Thursday. Suggested Donations: #2 pencils, crayons, erasers, pens, highlighters, notebook paper, glue, pocket folders, notebooks, rulers and pencil boxes.