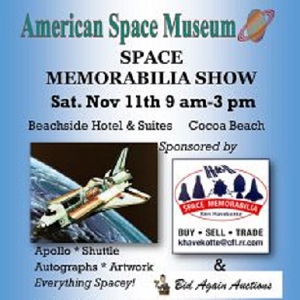 2nd Annual Space Memorabilia Show and Appraisals
Journey Through Space History at the American Space Museum's free 2nd Annual Space Memorabilia Show on Saturday, November 11 from 9am to 3pm at the Beachside Hotel & Resort in Cocoa Beach.
Calling all space enthusiasts and collectors! Embark on a captivating journey through the annals of space exploration. This extraordinary event will transport you to the heart of the Space Age, showcasing an array of captivating artifacts and collectibles that embody the spirit of human endeavor beyond Earth's boundaries.
Delve into the history of the Apollo missions, marvel at relics from the Space Shuttle era, and discover a treasure trove of autographs, artwork, and memorabilia that encapsulate the allure of space exploration. Whether you're a seasoned collector or a budding enthusiast, this event promises to ignite your passion for the cosmos.
Appraisals will be available.
Prepare to be captivated by an extensive selection of items, including:
Rare and authentic spaceflight artifacts
Autographed memorabilia from renowned astronauts
Stunning space-themed artwork
Collectibles spanning the breadth of space exploration history
Educational materials and resources for all ages
Amidst this trove of space-related wonders, you'll have the opportunity to engage with fellow enthusiasts, share your passion for space exploration, and expand your knowledge of the cosmos.
This show is not just a gathering of collectors; it's a celebration of human ingenuity, a testament to our enduring fascination with the universe beyond our planet. Make this event an unforgettable part of your space exploration journey. Join us and immerse yourself in the wonders of the cosmos. Admission is free, so bring your curiosity and prepare to be amazed!
Donations accepted at the event or you can donate online at https://spacewalkoffame.org/donate
Vendor tables are $30 each. To be a vendor, contact Mark Marquette: marq@americanspacemuseum.org or (321) 264-0434.