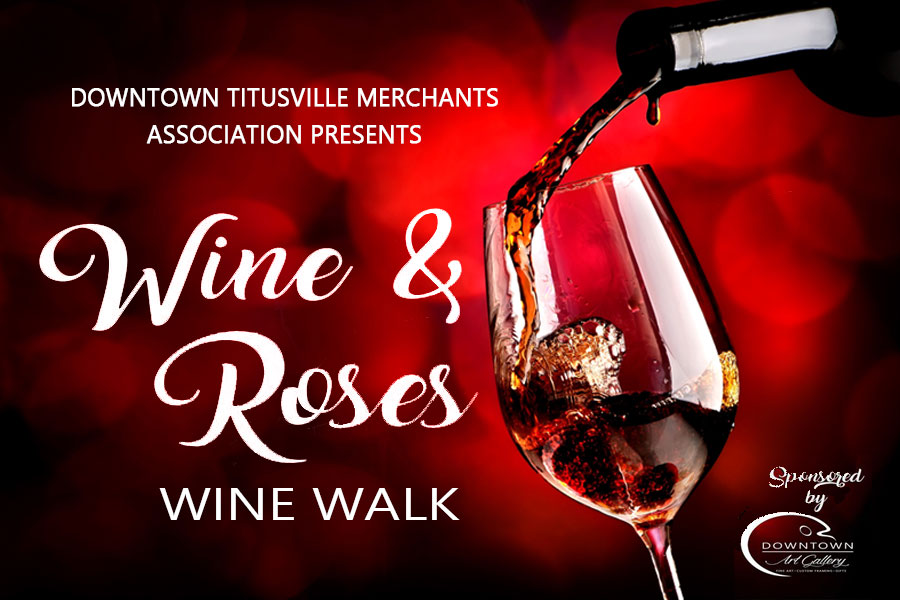 Downtown Titusville Wine & Roses Wine Walk
The artists at the Downtown Art Gallery invite you to visit Historic Downtown Titusville for "Wine and Roses" a special Valentine's edition of their popular wine walks on Friday February 11, 2022 from 5pm to 9pm. The event is sponsored by the Downtown Art Gallery and hosted by the Downtown Titusville Merchants Association
Stroll through Historic Downtown Titusville and stop to explore a the businesses, old and new, that make downtown such a fun place. Tickets include a souvenir wine glass, hors d'oeurves, and a variety of wine samples.
The fun starts at the DTMA table in front of the Downtown Art Gallery, 335 S. Washington Ave. where you pick up a map and your wine glass. You will enjoy sipping and strolling while visiting shops, galleries and eateries. And checking out the latest works by the talented artists at the Downtown Art Gallery
One ticket is $25, or $40 for a couple. You must be 21 to participate and tickets are not refundable. Call 321-268-0122 for information.