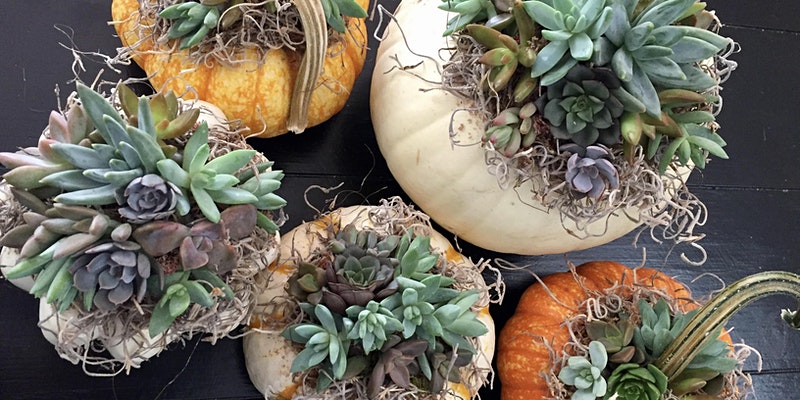 Sips + Succs: Succulent Pumpkin Centerpieces
Leslie Thomas from The Seaside Succulent is back with another succulent make-n-take just in time for the Fall season!
Join us for a fun morning of crafting in the gardens! Bring along your own medium-large pumpkin & Leslie will provide her guided instruction, succulents, moss & everything else you need!
Workshop fee is $45 & you leave with a beautiful pumpkin centerpiece that will last through Thanksgiving!
TIPS/SUGGESTIONS:
Looking for inspiration or not sure what color pumpkin to choose? Check out the photos on The Seaside Succulents website to see how different colored pumpkins look with succulents on top!
Leslie suggests choosing a medium to large (nice size for a dining table or front porch) heirloom or "Cinderella" pumpkin because they are technically gourds and will last for a long time – some past participants said theirs lasted a couple of years. The traditional orange pumpkins will rot much more quickly. She will have a variety of succulent types and sizes available to choose from but most will be too large to decorate mini pumpkins with so it's best to stick to a larger pumpkin with a nice flat top to decorate upon!
Our Farmers Market will have snacks, produce, fresh bread, additional drinks, and more available for purchase before and after this event for you to continue enjoying your Saturday in the gardens!
*This event is not BYOB. Our selection of local craft beers, coffee, kombucha, and natural wines will be available for purchase from The Farmers Market! You are welcome to bring drinks from our Farmers Market into this workshop to enjoy.