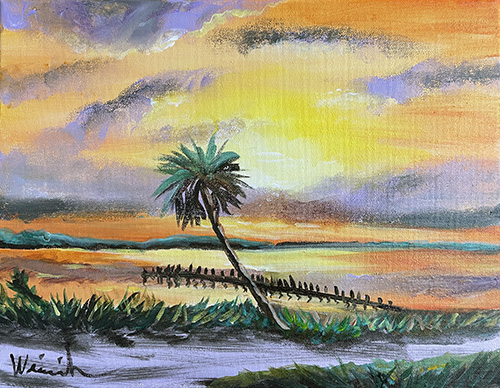 River Dock Paint Party at the Studios of Cocoa Beach
Spend a few stress free hours after Christmas during a fun paint party at the Studios of Cocoa Beach from 6 to 9 pm , on Thursday December 30, 2021.  Portray life on the river in this step by step project with instructor Jaymee Weinreich. Beginners and intermediate artists will create a "River Dock" at its most gorgeous time of day.  If you have never painted before you will be amazed as you complete an acrylic painting on canvas.
Jaymee is a professional artist with a fine arts degree from Florida International University.. She believes there is an artist in everyone and excels at helping you explore painting. The class will cover mixing and blending colors, making clouds, reflections, and foliage in acrylics.
The fee for the class is $45 which includes all materials. Bring your own refreshments and something to share (optional). Call or text Jaymee Weinreich at 321-588-3352 or email  jaymeeweinreich@gmail.com with any questions. Register online at the Studios website, www.studiosofcocoabeach,org.