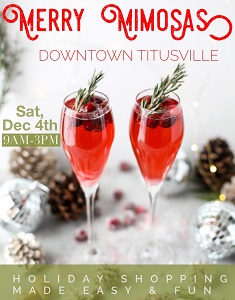 Merry Mimosas! Sip and Shop in Downtown Titusville
This popular event is back in downtown Titusville on Saturday, December 4 from 9am to 3pm. Spend some time browsing as you sip mimosas with your friends. Your favorite downtown shops will open early and welcome you with complimentary holiday mimosas and non-alcoholic fauxmosas.
Each shop will feature a different flavor to sip as you do your holiday shopping. For example, The Downtown Art Gallery will serve Passionfruit Mimosas while the Sunrise Bread company features Creamosa Mimosas. Sweet Southern Sass has Candy Cane Mimosas! and Elite Bridal will serve White Mimosas.
The variety of flavors extends to the variety of holiday specials at all the participating businesses. You are sure to find the perfect gift for those special people on your list!
The event is sponsored by the Downtown Titusville Merchants Association and includes many businesses in the two block area along Washington Avenue and Hopkins downtown Titusville. For information call 321-268-0122