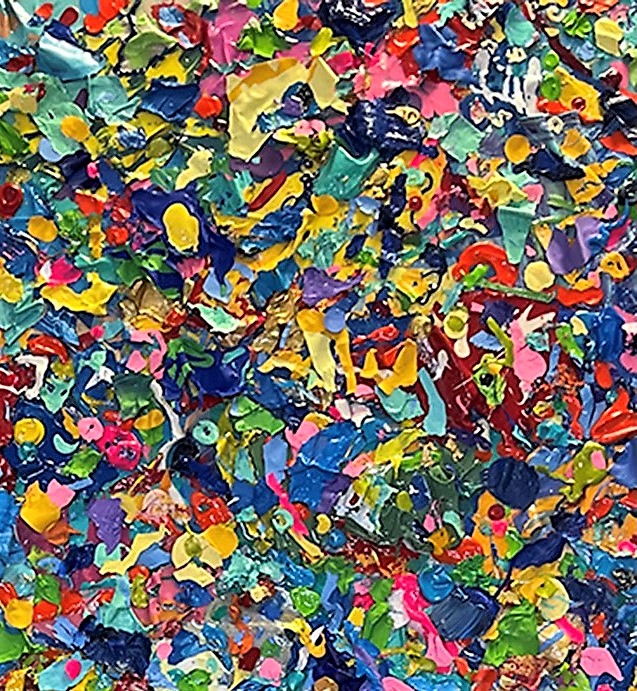 Many Colors: The Art of Jacquilyn Eusanio
The Studios of Cocoa Beach presents "Many Colors" an exhibit of mixed media work by Jacquilyn Eusanio. This solo exhibit for the month of March presents her latest series, which combines color, texture and different materials to create almost musical compositions. The highly textured, color filled canvases include leftover paint scraped off  her palette and saved.  Each piece contains memories of the original painting. The large canvases allow her the freedom to express high energy, joy and passion.
Jacquilyn Eusanio has always been interested in creating mixed media art. She attended Butler Institute of American Art in Youngstown Ohio before her business career creating and running beauty schools. . After a number of years running her business, she returned to her interest in art. Her work combines her love of painting and color with a passion for experimentation.
The exhibit runs March 2 to 31, 2022. The Studios of Cocoa Beach is located at 165 Minuteman Causeway, next to Heidi's Jazz Club in downtown Cocoa Beach. Gallery hours are Wednesday and Thursday 9am to 6 pm, Friday and Saturday 10 am to 7 pm and Sundays 10:30 am to 3 pm. Visit the website www.studiosofcocoabeach.org for artists profiles, workshop schedules and more, or follow the Studios on Facebook and Instagram.