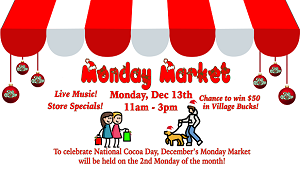 Holiday Monday Market in Historic Cocoa Village
Holiday Monday Market in Historic Cocoa Village
December 13th
11am – 3pm
To celebrate National Cocoa Day, Historic Cocoa Village is hosting a Special Holiday Monday Market!
Do all of your Holiday shopping in our unique shops! Grab a bite to eat & enjoy a refreshing beverage at participating restaurants & pubs!
Live Music! Store Specials! Chance to win $50 in Village Bucks! For each $10 spent (up to $100) at a *participating merchant, you will receive a raffle ticket which enters you into a drawing to win $50 in Village Bucks.
Bring your kids! Bring your pets! All are welcome in Historic Cocoa Village!
Shop small and support your local businesses!
For more information call 321-631-9075 or visit our website: https://VisitCocoaVillage.com
*For a list of participating merchants, go to VisitCocoaVillage.com/monday-market.