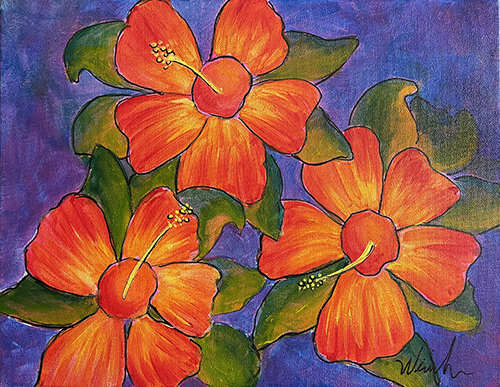 Hibiscus Paint Party at the Studios of Cocoa Beach
The Studios of Cocoa Beach, 165 Minuteman Causeway in downtown Cocoa Beach is hosting an evening Paint Party on Saturday, February 26,2022 from 6 pm to 8:30 pm. Brighten your mood with this step by step project taught by Jaymee Weinreich. Beginners and intermediate artists can create these beautiful flowers with an explosion of color! Those with no experience will be amazed at what they can do!
Weinreich has a Bachelor of Fine Arts Degree from Florida International University and has been a professional artist for over twenty-three years. She works in a variety of art mediums and is an experienced teacher who believes there is an artist inside everyone.. Students will explore composition through arrangement of patterns, mixing colors, using strokes to create direction and texture, and most exciting, how the transparency of paint is used to create colorful effects.
It's a party so bring a friend and your favorite beverage. Jaymee will supply everything you need to create an 11 x 14 acrylic painting. Fee is $45 per person. Call or text Jaymee at 321-588-3352 or email jaymeeweinreich@gmail.com with any questions. Registration is online at the Studios website, www.studiosofcocoabeach.org