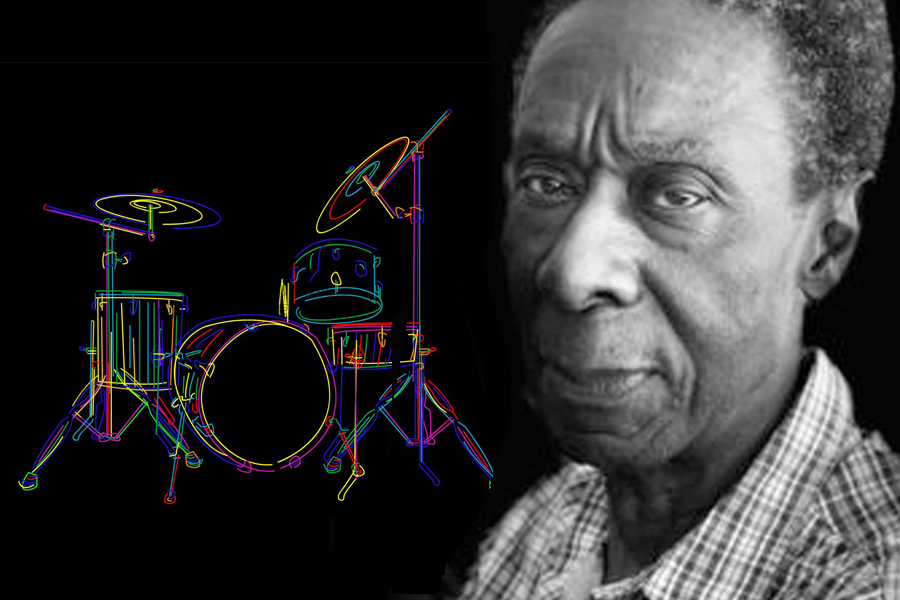 Jazz Concert by Fred Goodnight and Band
Bring your own food & drink – none available for purchase, however…tables, seating, great music and a beautiful view
of the river are provided.
Admission: $10 for Jazz Society and Veterans Memorial Center members, $15 for guests, students are free
for ages 25 and under.
OPEN TO THE PUBLIC – Drummer and percussionist Fred Goodnight will be joined by Paul Polanski on saxophone, Daniel Tenbusch on keyboard and Ron Pirtle on bass.
Fred grew up in a small town just north of Pittsburgh with "music everywhere." Although he now plays piano, saxophone, flute and trombone, he chose the drums when it was time to declare an instrument in junior high. "That was the best decision I ever made. The drums have been with me from that point clear to the present time. I have been able to travel all over the Far East and to about 35 states doing what I love and hopefully touching people along the way," he says.
In his youth, it was Pittsburgh, not New York, that was the jazz capital. Goodnight used to stand outside clubs and listen to world class jazz performers until he was old enough to go inside and meet with the likes of Art Blakey, Marianne Williams, Ahmad Jamal and others. From those early days in high school bands and visiting clubs, Goodnight went on to study music theory at Akron University, the US Navy School of Music and, as an enlisted marine, at the Field Music School. In the military, he served in the Pacific Drum and Bugle Corp as part of the Fleet Marine Force. The Corp was part the of President's People to People Program to promote US goodwill throughout Asia, where he toured Japan, Okinawa, Korea, Hong Kong, the Philippines and Taiwan as well as Alaska and California, sharing the sound of jazz and other genres of music with audiences as diverse as school children to the Japanese Emperor and his court.
After his military service, Goodnight attended the Art Institute of Pittsburgh and worked a day job as an illustrator after graduation. But for years, for up to as many as six nights a week, he had a night job playing the drums. He was a member of several bands, each one better than the last. These years led to travels up and down the East Coast and through the Mid-Atlantic States, all the while honing his skills, picking up new techniques and ideas from teachers and those who influenced him. During this time he also played at high profile events such as for the Statue of Liberty anniversary at Madison Square Garden, music festivals in Switzerland and Europe and as part of the opening act for Ray Charles.
Goodnight's diverse teachers included the renowned jazz artist Max Roach, drummer and recording artist Baba Olantungi of Nigeria, Brazilian percussionist and recording artist Nana Vasconselors, workshop facilitator and percussionist Arthur Hull and percussionist Tony Vacca. Early in life he was influenced by the likes of James Moody (with whom he later shared the stage), and has always learned from percussionists Tony Williams, Philly Joe Jones and Jimmy Cobb who all played with Miles Davis at some point in their careers. Through these influences, he started leading drumming circles, adding a Brazilian flavor to some of his performances and integrating unique approaches to his drumming style.
Goodnight moved to Brevard County after traveling back and forth to work here. Many may remember him from a nine-year gig at Dijon's Restaurant in Melbourne Beach. Currently, Goodnight plays at local venues, churches and special events with both local and visiting musicians. Goodnight is also a teacher and mentor to young jazz musicians throughout Brevard. You can see past performances of Fred HERE.