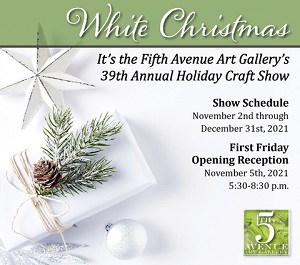 First Friday Reception: 39th Annual Holiday Craft Show
Fifth Avenue Art Gallery presents…
39th Annual Holiday Craft Show  |  November 2 – December 31, 2021
First Friday Reception: December 3, 2021  |  5:30 pm – 8:30pm
We'll be celebrating the holidays with a "White Christmas " theme at Fifth Avenue Art Gallery this November and December. Join us for the 39th Annual Holiday Fine Craft Show. We invite artisans from across the country to participate, to bring a wide collection of one-of-a-kind handmade items for every name on our patrons' gift lists. The exhibition/sale runs from November 2, 2021 to December 31, 2021. Our First Friday Artwalk opening will be on November 5th from 5:30 – 8:30.
Participating Artists include: Susan Bach, Zoe de Negri, Kathy Ero, Magali Groves, David Golzbein, Thomas Jones, Joan Kisner, Sharon McCartney, Peg Miller, Lois Mittleman, Eyca Moticska, Peggi Nadeau, Charles Nalle Nikki Parenti, Ann Robinson, Gail Snively, Rod & Diane Taylor, Deborah Tweedie, Randa Yordi, & more to come!
Fifth Avenue Art Gallery is at 1470 Highland Avenue in the Eau Gallie Arts District of Melbourne. For further information, call 321-259-8261 or visit fifthavenueartgallery.com.