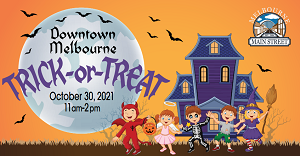 Downtown Melbourne Trick-or-Treat
Happy Halloween from Melbourne Main Street! The Downtown Trick or Treat is Saturday, October 30th from 11:00 am to 2:00 pm in Historic Downtown Melbourne. Families and kids, dress in your favorite costume and come trick or treating in Downtown Melbourne. There are over 30 merchants participating!
Participating merchants will have an orange "Treat Stop" sign in their windows, indicating that they are participating in the event and that they will have a treat for the kids, either inside or outside their doors.
This event is FREE and open to the public. Masks are NOT required but please practice social distancing and let's make this a fun event for everyone!
For more information, please call the Melbourne Main Street office at 321-724-1741. This event is brought to you by Melbourne Main Street.