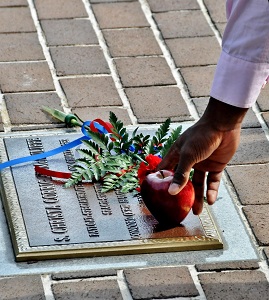 Astronaut Memorial Ceremony
The annual Astronaut Memorial Ceremony for the 17 crew members of Apollo 1, Challenger and Columbia who perished in America's space program will be conducted Saturday, Jan. 29, 2022, at 11 am at Sand Point Park in Titusville, Florida.
Shuttle astronaut and space-walker Winston Scott will be the keynote speaker. The public is invited to attend this reverent and patriotic ceremony that honors the lives and sacrifice made by these pioneers of NASA's manned space program.
The event will be broadcast on the social media platforms of Facebook Live, YouTube, Twitch, with audio podcasts live on Google, Spotify and Apple.
The ceremony includes a keynote address, patriotic songs, a host of city and county dignitaries, participation from the Knights of Columbus, the Civil Air Patrol, a 21-gun salute and placement of flowers on the 17 plaques at the park honoring the fallen space travelers.
The beautiful program is hosted by the City of Titusville Flag & Memorial Committee and the American Space Museum. The Titusville Garden Club provides the flowers for this ceremony.
Winston Scott was a mission specialist testing spacesuits and spacewalking techniques on two Space Shuttle missions, Endeavor and STS-72 in 1996 and Columbia and STS-87 in 1997. He has spent 24 days in space, including three spacewalks totaling 20 hours.
Scott, 71, has been a leader in education and the civil rights movement, and is special assistant to the president at the Florida Institute of Technology in Melbourne. He is an accomplished jazz trumpet player, frequently playing with a band.
Those astronauts being remembered and the day they gave their ultimate sacrifice for America are:
Apollo 1, Jan. 27, 1967; Virgil "Gus" Grissom, Ed White II and Roger Chaffee.
Challenger STS-51L, Jan. 28, 1986; Dick Scoby, Michael Smith, Judy Resnik, Ellison Onizuka, Gregory Jarvis, Christa McAuliffe and Ronald McNair.
Columbia STS-107, Feb. 1, 2003, Rick Husband, William McCool, David Brown, Laurel Clark, Kalpana Chawla, Michael Anderson and Ilan Ramon of Israel.
An informal reception will be afterward at the American Space Museum in Downtown Titusville. Admission is free.