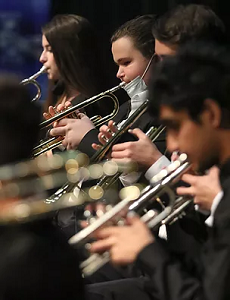 Artistic Residency Concert
Space Coast Symphony Youth Orchestra presents…
Cocoa Beach Jr/Sr High | March 6, 2022 | 3:30pm
"Artistic Residency" will spotlight the orchestra's recent concerto competition winners in a performance with the advanced students of the Philharmonic Orchestra under the direction of Maestro Mark Nelson. On the spotlight will be competition winners Dylan Rhodes on piano, Sophia Hibner on violin, Taylor Kruuv on flute and Alex Kaufman on saxophone.
The audience will hear the "Warsaw Piano Concerto" by Addinsell, "Symphony Espagnole" for violin and orchestra by Lalo, Mozart's "Flute Concerto" and the Glazunov "Saxophone Concerto."
No tickets are required for the free performance, but donations at the concert will be gratefully accepted. For more information, contact 888-252-8290 or visit scsyo.us.